Thanks for a great season!
Posted 01 November 2016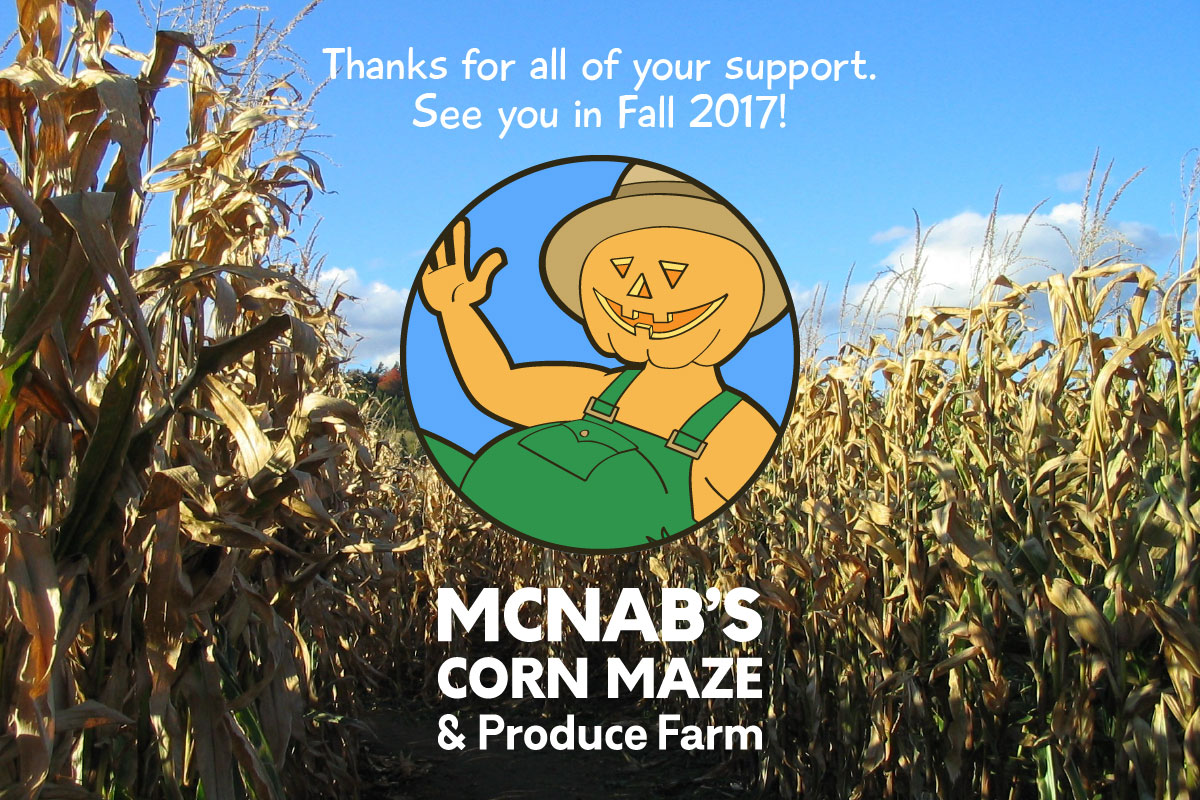 That's all, folks!
The 2016 corn maze has now come to a close. It was an excellent season – albeit a slightly damp one – but we never let the rain dampen our spirits!
We saw a great turnout at the pumpkin patch, the haunted house, and of course the corn maze.
Thanks for everything
A big thank-you to everyone who visited the farm this season – we wouldn't be hear without your support.
And if you weren't able to make it this year, we'll be back in the Fall of 2017 with a new field of corn and a new maze – we hope to see you then.
In the meantime we'd also like to take a moment to highlight a few causes that mean a lot to us.
COCO Cafe
The COCO Cafe operates a successful social enterprise that provides employment, training, and socialization opportunities for people with developmental disabilities within their community. And they serve delicious beverages and food! Located at 4A-1840 Cedar Road, Nanaimo BC. Learn more at cococafe.ca.
Vancouver Island Mental Health Society (VIHMS)
Vancouver Island Mental Health Society is a charitable Vancouver Island based organization demonstrating excellence in psychosocial rehabilitation for adults with mental health and addictions concerns, and/or cognitive challenges. They engage communities through programs that promote recovery, social inclusion, safe housing, and public education. Learn more at the VIHMS website.
Live 5210
Live 5-2-1-0 is a simple way to remember guidelines for healthy living. We can all benefit from following these easy to remember "rules".
5 – Enjoy at least 5 servings of vegetables and fruit every day.
2 – Limit recreational screen time (television, computer, phone, video games, etc) to a maximum of 2 hours each day.
1 - Play actively for a minimum of 1 hour each day.
0 – Drink 0 sugar sweetened beverages (pop, energy drinks, iced tea, etc).
You can learn more by visiting live5210.ca.
Produce stand still open
Don't forget that our roadside produce stand is still open for the next couple of months. The stand is located at 4613 Yellow Point Road, and is generally open during daylight hours (there's a cash box for payment if no one is manning the stand).
Remember that it's CASH ONLY, so please bring change.