Thanks for a great 2020 season!
Posted 01 February 2021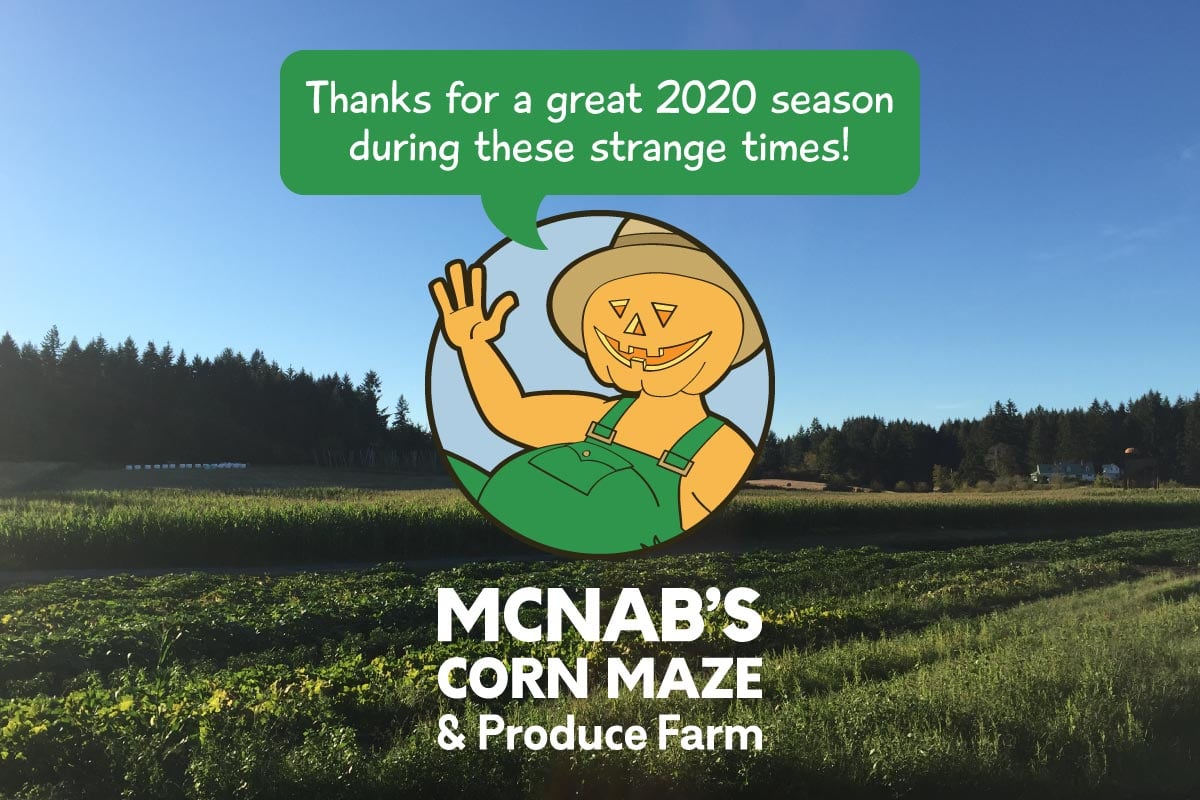 2020 Prize Draw Winners
First, the winners from our 2020 draw!
First Prize - A half hour scenic flight from the Nanaimo Harbour with Sechelt Air: Emma H. of Nanaimo
Second Prize - A $100 Gift Basket from Yellow Point Cranberries: Jennifer M. of Nanaimo
Third Prize - $100 of Honey from The Apiary of Helmut Gittinger: Sonja B. of Nanaimo
I would like to congratulate the winners from our draw for the 2020 Maze season, as well as thank all of the visitors to McNab's Corn Maze & Produce Farm in 2020.
A Corn Maze in COVID-times
In spite of very uncertain times, we went ahead and planted the corn maze, and started almost as many pumpkin plants as we did in 2019.
The Maze corn grew very well and we started to cut out our design in August. Due to problems with pain in my right leg, the pattern was not completed with the usual saw blade on a gas trimmer. Instead I rented a skid-steer with a brushcutter mounted on the front to finish cutting out the maze.
This resulted in wider paths, which helped to allow social distancing in the Maze.
Online tickets sales are a first for us in 2020
In 2020 we also engaged a company (ShowPass) out of Alberta to sell admission tickets online for the first time ever. This service cost us about 9%, but allowed us to track the number of visitors to the
farm during any particular hour of any day.
We had a certain amount of tickets for sale at the entrance building. Sales of the onsite tickets were cut off whenever the maximum number of visitors was reached, as per the guidelines set out by the Public Health Department. Most people understood our problem, and we thank them for their patience.
As far as the hayrides to the pumpkin patch, the number of people per wagon was reduced to prevent the spread of the COVID virus. This worked reasonably well and we thank all of our visitors who were inconvenienced by this restriction.
Pumpkin sales went very well, and hundreds of pumpkins were donated to many worthwhile causes in the mid-Island area.
The attendance for the corn maze was down from previous years due to the limited number of visitors allowed on the farm at any one time. But overall it was a good year, and we look forward to an even better year in 2021.
Fingers crossed for 2021
We sincerely hope that everything will be returning to "normal" by September, but we'll do whatever is required by the Health Department to keep our visitors safe during the 2021 season.
If you see something of concern at McNab's
Before wrapping up this post, I would like to remind that anyone visiting the farm (or driving by) that sees or hears something that causes them concern should contact myself or one of our employees first.
We will do our very best to address your concerns. If at such time you are still not satisfied, please call whomever you like.
I bring this up because of two examples that happened this year of people calling in the authorities prior to contacting myself or one of our employees:
First there was a concerned visitor who called/emailed a complaint to the SPCA. This resulted in a special constable from the SPCA having to visit the farm at a very busy time (for both of us).
The complainants concern was that children were "chasing chickens around and thereby tormenting said chickens". These chickens get out of their pen every morning and return each evening to be protected from predators. This was a non-issue, and the lady from the SPCA told me this would be like calling the SPCA whenever you saw a child chase a pigeon around. Come on!
This person also complained that the water for the chickens was "cloudy". The water for our chickens is changed every morning, so that by the afternoon there was the usual amount of debris in
their waters. "Just fine" according to the same SPCA lady. In fact she informed me that she was "very annoyed in having to take time to investigate this frivolous complaint", and that the animal's conditions looked great!
The second example was when someone drove by on Yellow Point Road and saw that people lined up down the edge of the road were not practising social distancing. This occured when we had to close the gate to visitors because there was the maximum number of visitors at the farm.
Our staff were busy, and had not seen the line up forming. The first they knew of this problem was when an RCMP officer showed up to give them some flack! This situation was remedied, even though it was confirmed later that we were in no way responsible for the behavior of persons in a lineup that is on the MOTI right of way.
So once again, we are doing our best to keep all of our visitors safe! If you see or hear anything that causes your concern, please bring it to my attention or to the attention of one of our staff.
We look forward to seeing you at the Corn Maze and Pumpkin Patch this year.
Thank you all very much,
– Murray McNab