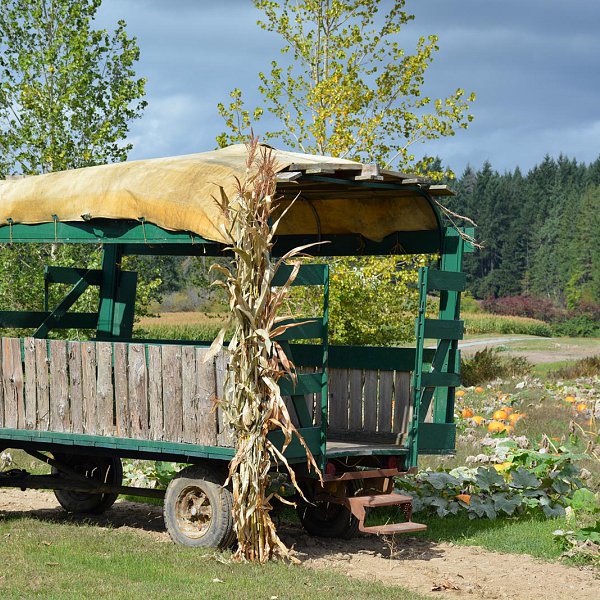 Pickin' pumpkins
Hayrides to the Pumpkin Patch
We are currently closed until the 2022 season begins in late August.
Hayrides to the pumpkin patch begin again when the pumpkins start to ripen in September, and will continue until our final day of the season on Halloween.
Please see the corn maze page for our 2022 hours, which are typically posted in August.
Take a hayride to the pumpkin patch and then jump back on with your pumpkin for a ride around the corn maze. ​Once the hay wagon drops you off in the pumpkin patch you can take as much time as you want to look around and pick out your perfect pumpkin. Pumpkins are paid for right in the field prior to catching a ride back on the hay wagon.
The hayride circles the corn maze and is an adventure in itself – you can just enjoy the ride even if picking out a pumpkin is not on your list!
There are 2 hay wagons that run nonstop on busy days. When it isn't as busy, hayrides occur on a more informal schedule – Murray, our fearless hayride operator, is just a text away.
Remember to account for the weather – both the day of your visit and from the preceding week or so. Dirt + water = mud, so bring your boots.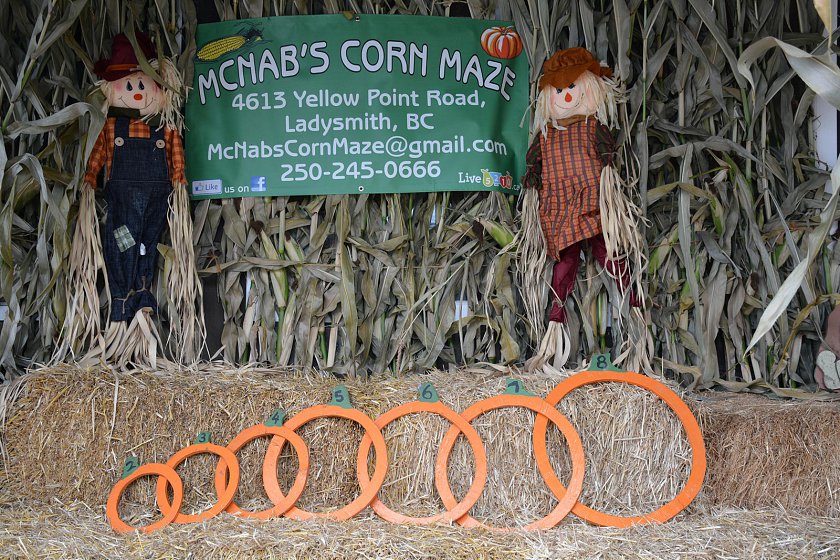 Purchasing Pumpkins
Our pumpkins range in price depending on the size and the variety. We've got some handy "pumpkin hoops" to help us determine how much to charge.
One of our customers said it best years ago: our pumpkins might cost a tad more than at big-box grocery stores, but the photos you'll get in our pumpkin patch will be a lot better!
Some Pumpkin Facts
Beginning early in May and continuing into June ~15,000 pumpkin seeds are planted in stages in peat pellets and set out in trays in the greenhouse
Once seeds have sprouted and plants are beginning to grow they are transplanted into the fields
This year we planted over 40 different kinds of pumpkins, including some exciting new varieties – we have:

large carving pumpkins
specialty pumpkins (red, yellow, striped, warty and more!)
small kid-sized pumpkins
pie pumpkins
white pumpkins in a range of sizes
hard-shelled painting pumpkins
miniature pumpkins (ideal for the little ones or fall displays)

Weeding and watering continues throughout the summer
Pumpkins become ripe starting in September and continuing through October, depending on the variety and weather
McNab's Pumpkin of the Week
It's no secret, we have a passion for pumpkins. We would like to share this passion with you so we are introducing our "Pumpkin of the Week" for the 2019 season.
Click the links below to learn more:
Ticket Pricing
Adult Pass for Corn Maze & Hayride

14+ years old

$9.00*

Child Pass for Corn Maze & Hayride

3-13 years old

$6.00*

Family Pass for Corn Maze & Hayride

2 adults & max. 4 children

$30.00*

FREE

$2.50*

Group Discounts

For groups of 10 or more; discount applies to corn maze tickets only

10% off

Fire Pit Rental

Includes firewood

$15 per 2 hours

Gum Boot Rental

2021 – Not currently renting gum boots

n/a
*A small additional service fee is charged for tickets purchased online
Please Note
Tickets for the corn maze can be purchased online (service charges apply), and are also available for purchase at the entrance building
Pumpkins are sold separately, and are not included in corn maze or hayride tickets
Fire pit rentals include wood, but we're not loaning roasting sticks at this time
We recommend that guests wear a face mask when on the hayride during busy times and when in the Corn Shack purchasing tickets
Please no pets! Assistance dogs are OK
Smoking anything, including vaping, is not permitted anywhere on the property
In the Corn Maze, please stay on the path and do not cut through the corn stalks
Please do not throw corn cobs
Children under age 12 need to be supervised when in the Corn Maze
Do not bring disposable styrofoam products to the farm
Please limit using single-use plastic products, and gather/recycle any at the end of your visit
The Produce Stand is cash only