Pumpkin of the week #4: The Minis
Posted 21 September 2019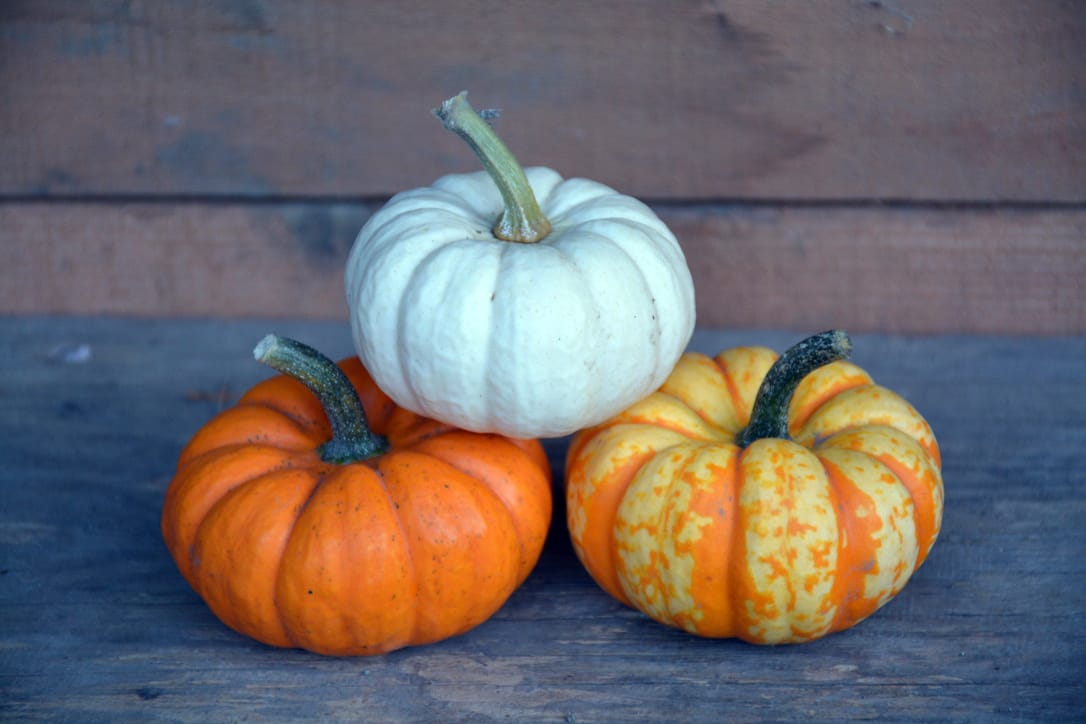 Spark
The Spark is the first of 3 "mini pumpkins" that we will feature. All are tiny (about half of a pound) Cinderella-shaped fruit, flattened and deeply ribbed. Spark is the showiest of the 3, sporting yellow with orange stripes.
Even though it will tempt you with it's good looks, this is one you probably won't want to eat. Spark is perfect for small hands and as part of a display on your table, not on your plate!
Jack-Be-Little
Jack-Be-Little is similar in size and shape to it's flashy cousin Spark, and differs mainly with it's orange colour. Jack also has a twin sister, Jill-Be-Little and the two are pretty much impossible to tell apart!
Jack and Jill are a hit with our youngest pint sized visitors and also good for both displays and eating!
Baby Boo
These little cuties are a creamy white version of their cousins, Jack and Jill-Be-Little and Spark – even the flesh is white! But don't be alarmed, you can still eat them.
Baby Boo combines well with Spark and Jack (or Jill)-Be-Little to make a colourful, edible and compostable fall display.
---
About McNab's Pumpkin of the Week
It's no secret, we have a passion for pumpkins. Not just perfectly shaped, uniform pumpkins, but the unusual and hard to find too. Yup, we love them all!
We would like to share this passion with you so we are introducing our "Pumpkin of the Week".
Each week we will be featuring a different pumpkin or pumpkin "family", so you can share in our excitement and learn a little bit more about some of the many varieties we grow here on the farm.